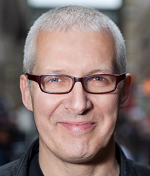 Who owns big data and what can be done with it?
Euan Semple talks about patterns that can be seen from data that we all provide as we use the internet, how these are interpreted, the benefits and drawbacks and how accessible it is.
When we use Facebook, Twitter and other social networks for free, we become the product. If the data we provide is used in a contextually appropriate way and is helpful to us we don't mind so much but what about the uses we're not aware of?
What products are available that allow smaller businesses to gather data and use it for their own benefit?
Podcast: Play in new window | Download (Duration: 26:41 — 12.2MB)
The books Euan mentions in the show are: Code and Other Laws of Cybersapce by Laurie Lessig and What Technology Wants by Kevin Kelly  He also mentions The Cluetrain Manifesto which first discussed the idea of "human to human" conversations back in 1999 and is thought to be the precursor to social media marketing.
Euan was a guest on Show 2   His book Organizations Don't Tweet – People Do was published last year. http://amzn.to/xRYEHs 
Blog address euansemple.com/theobvious/
Twitter @Euan
Euan also produces a podcast Business Shift