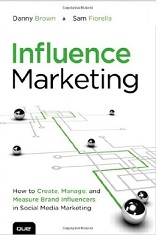 Create, manage and measure influence beyond social scoring .
Influencer marketing, (also Influence Marketing) is a form of marketing that has emerged from a variety of recent practices and studies, in which focus is placed on specific key individuals (or types of individual) rather than the target market as a whole. It identifies the individuals that have influence over potential buyers, and orients marketing activities around these influencers. -Wikipedia
Sam Fiorella talks to us about the new methodology that he and Danny Brown describe in their new book "Influence Marketing".
Sam says his interest in creating a new method for managing and measuring influence started when he was rejected in a job application because his Klout score wasn't high enough.
Dedicated to all those who refused to be defined by a score the book provides a blueprint that moves influence marketing beyond simple brand awareness and into sales acquisition and customer lifetime value measurement. This offers a complete methodology for generating more and better leads - and converting them faster, at higher margins.
Podcast: Play in new window | Download (Duration: 27:27 — 37.7MB)
Also mentioned in this weeks show is a blog post from the inestimable  Mark Etingchap aka Marketing Chap  on the topic of 'fake followers'.  You can read this and other musings from Mark here: Marketing Chap blog 
Connect with @DannyBrown and @SamFiorella on Twitter and read more about them here 
 Sam Fiorella
Sam is a partner at Sensei Marketing, based in Toronto and new York. In past 20 years sam had developed and led the execution of webstrategies for clients such as Morgan Stanley, AOL and Deutche Bank.
He is a highly sought after strategist and public speaker on the importance of customer experience and measurement in social media marketing.
See more of Sam's work at Sensei Marketing
 Danny Brown
Danny is Chief Technologist at ArCompany. He is a multiple award winning marketer, working with clients such as  IBM, FedEx, Microsoft Canada, Scotiabank, Vodaphone, Dell, BT, Orange and Blackberry.
DannyBrown.me is recognised as the Number One marketing blog in the world by HubSpot.