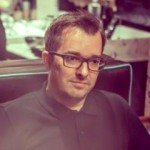 Head of Social Strategy Adobe EMEA. Ex-Giraffe Keeper. Cocktail Thrower. Cyclist. Author of "Sex, Brands & Rock'n'Roll" and  "Follow Me, I'm Right Behind You"
Past projects include working with TBG Digital (the worlds largest Facebook advertising agency), FTSE-100 organisations such as Unilever and Centrica as well as brands such as Reebok, Nike Golf, Unilever, MTV and Kellogg's. 
I occasionally turn up to speak at conferences such as Marketing Week Live, SXSW, Retail Week, Facebook Marketing Conference, Social Media Week London, Brand Republic, iStrategy, Figaro Conferences, Global Entrepreneurship Week, Pecha Kucha, BBC College of Journalism, Microsoft and Manchester University. I was also a featured monthly columnist at Entrepreneur Magazine.
Top 100 People in Social Media from Jeremy's book "Follow Me, I'm Right Behind You" 
Specialties: Social Media Strategy
Digital Brand Comms
Conference Speaker
JeremyWaite.Tumblr.com
Pinterest.com/JeremyWaite
Storify.com/jeremywaite